The warm heady days of summer have already given way to crisp autumn days as leaves change colour from vibrant green to burnished bronze and sienna orange and rusty reads. All around us nature is preparing for the changing season.
Winter is the season that signals rest. It is a time to feel comfortable, safe and secure. There is an awareness of wholeness, satisfaction and abundance. It is a time of peace and trust, and in that, there is restoration and rejuvenation.
Lao Tzu said that "nature never hurries, yet everything is accomplished."
Winter is the season that signals rest. It is a time to feel comfortable, safe and secure. There is an awareness of wholeness, satisfaction and abundance. It is a time of peace and trust, and in that, there is restoration and rejuvenation.
This quote from Daily Aromatherapy reminds me that when life seems out of control, we do have control over what we put in and put on our bodies. When chaos abounds, it is the consistent routines we have in place that serve to ground us and that only we have the power to create restoration and rejuvenation in ourselves and our bodies.
2020 has been an incredibly stressful year for everyone and the pandemic has affected us all in different ways. Stress, anxiety and sleep issues are recurring themes that many are experiencing as communities and individuals work out how to adjust to life in what is increasingly becoming the new normal. With all the challenges now is a good time to focus on more self-care, connecting with our innate selves and self-reflect as the year begins to wind down
As the days become shorter, darker and colder this starts to impact our mood our mental health which in turn takes a toll on our skin. Focusing on your skin may not be a priority at the moment especially if you are dealing with other challenges, though the changing season gives us an opportunity to focus on our wellbeing, nourish our bodies with hearty autumnal fare, brisk winter walks and snuggling down under cosy blankets and wood fires.
However, with more time spent working at home, many of us will neglect our daily skincare routine especially if we are not going out in public. Juggling multiple responsibilities with work, childcare, social media etc, makes focusing on our personal care routines even more of a challenge. The traditional CTM (Cleanse, tone, moisturise) and is oftentimes replaced with a quick splash in the morning and the normal routine goes out the window.
The clocks went back last week and as the days shorten, we are sure to spend more time indoors especially for those of us working from home. This can impact our skin and wellbeing health as we spend longer working at home. The air within our living space is often drier than the air outside. With the central heating on in our homes and offices and the air is recirculated and results in a dry atmosphere, which in turn plays havoc with our skin. Already I can feel the dehydrating effects of the central heating and the air outside all over as we start to layer on clothing. This is a time of year when our skin becomes vulnerable as our skin on the face and body respond to the cyclical patterns of the seasons just as nature does. It's a good time to start thinking about the seasonal considerations to your current routine and make adjustments as the skin on our face and body can become flaky, dry and dull. In addition, the wearing of face masks has also given rise to a host of skincare problems especially those that have to wear face masks over a combined period of time.
The stress and anxiety of COVID has without a doubt had an enormous impact on our wellbeing and skin health. There have been multiple studies carried out on the relationship between stress, anxiety and skin health. The organs in our body all respond to stress and as the largest organ in the body, the skin is not immune to the effects of stress. Stress leads to an increase in the production of the stress hormone cortisol, which can also impact on the skin's quality through increasing inflammation and destabilising the immune system. This can aggravate skin problems such as acne and eczema and create new imbalances.
Now more so than ever is the time to be attuned to what is happening with your body and to ensure you have a wellness routine in place… It's not about long complicated routines, but rather simple steps consisting of some movement, good nutrition and natural therapies to help balance out your body mind and spirit.
The practice of aromatherapy
The practice of Aromatherapy once dismissed and derided as scented emotional quackery is now recognised for the significant benefits on our emotional wellbeing and skin. Dr Tara Swart, Neuroscientist and psychiatrist and Brand Ambassador for Aromatherapy Associates explains that "the sense of smell is linked to the deepest parts of the brain – the limbic system – and unlocks our basic instincts, feelings and memories. 'It's the most emotive sense,'.
The International Federation of Aromatherapists (IFA) describes aromatherapy as an ancient art and science of blending naturally extracted essential oils from aromatic plants, to balance, harmonise and promote the health of body, mind and spirit.
Aromatherapy aims to enhance well-being, relieve stress and help in the rejuvenation and regeneration of the human body. It has been used throughout history in various forms of traditional medical practices of the world's greatest civilisations. Nowadays, aromatherapy is widely accepted by orthodox and complementary practitioners as one of the most comprehensive of the natural therapies.
Essential oils are used synergistically in aromatherapy practice where their distinctive therapeutic properties may help;
skin problems,
muscular and arthritic pains,
menstrual issues,
respiratory and
stress related issues
Using Aromatherapy and essential oils in our daily lives is a wonderful way to relax and rebalance the body holistically and can be used in various ways throughout the day at home and at work.
Mornings:
Aromatic showers – using shower steamers made with essential oils is a great way to start of your day. Look for invigorating blends containing rosemary, grapefruit, eucalyptus, niaouli essential oils.
Diffusing essential oil blends for focus, clarity, relaxation, sleep in an aromatherapy burner or diffuser. – Citrus oil blends are fantastic to uplift and detox the atmosphere
Roller balls for pulse points – these are a quick pick-me up that can be used throughout the day and can be used with breath breaks that you take during the day.
Evenings:
Aromatic Baths using a mixture of salts, botanicals and essential oils are a fantastic way to wind down after a long day. Aromatic baths help to alkalise and detox the body and help your joints and muscles.
Self-massaging body creams/oils/lotions with essential oils into the skin before going to bed
Inhalation – lean over a bowl of steamy water containing essential oils or sniff a drop or 2 from a tissue.
The most important thing to remember is NEVER apply essential oils neat on the skin – they must always be diluted.
There are many brands on the market that incorporate essential oils into personal care products or you could chose to consult a qualified aromatherapist for a one-on-one treatment consultation and have a variety of products blended to suit your skin and help calm and balance the mind.
Aromatherapy can be extremely beneficial for individuals when the season is changing and particularly now as Covid-19 poses its own challenges.
Here is a blend I use regularly to help boost mind, body and skin for the coming autumn season and to calm anxious overwhelmed minds.
So Sleepy Body Oil
30 ML Carrier oil – Olive, sweet almond, sesame seed
4 drops Lavender Essential oil
2 drops Bergamot Essential oil
6 drops Vetiver Essential oil
Bergamot aka the happy oil is one of the most useful aromatherapy oils and is often labelled as 'nature's prozac' by many aromatherapists, as it may be beneficial for treating anxiety and depression.
Lavender essential oil can be used to treat a plethora of physical and emotional conditions. It is a calming, relaxing and balancing essential oil which is useful for treating stress, anxiety and mood swings. It is also ideal for use before bed to help with night-time awakenings and insomnia.
In modern aromatherapy Vetivert essential oil is known as the 'oil of tranquillity' as it has a deeply relaxing effect on the mind and body. It is calming, soothing and restorative.
Maintaining Wellbeing and Healthy Skin
As an IFA qualified aromatherapist and holistic facialist, I follow an integrative approach which involves assessing and thinking of the person as a whole (mind, body, and spirit). This helps me get to the root cause of the problems or complaints so I can determine the best methods to use when treating the skin on the face and body and to determine which ingredients and essential oils will be of use in the treatment protocol. Ayurveda one of the most ancient surviving medical systems in the world maintain that the path to radiant skin requires a healthy diet and digestive system, breathing practices, regular exercise.
The most common skin conditions clients present with as the season changes are:
Dry flaky skin
Inflammation and breakouts
Dry chapped lips and dry feet
Rough dry patches
Dull skin lacking in radiance and a healthy glow
I advise my clients how essential it is to establish skincare routines to prevent the skin from drying out and to maintain happy skin through the autumn/winter months. In addition this is the time of the year to incorporate natural remedies to enhance your routine.
For the face – Give your skin a chance a skin to breathe and calm as it adapts to the changing temperatures and harsh cold winds. Use gentle nourishing products and avoid over exfoliation and peels.
Morning and evening cleanse are essential for healthy skin
Keep the skin moist by using hydrating toners and spritzes throughout the day to counterbalance the effects of central heating on the skin
Eat nourishing food and do a light detox program if you are feeling bloated
I have found incorporating honey into skincare a huge benefit for healing the skin. Honey is a natural humectant and a natural antibacterial agent full of antioxidants. Make sure you use a good raw honey as a mask once or twice a week to deep clean the pores. Massage into your face and leave on for 20 minutes and then remove with a warm cloth.
As a weekly treat for your face you could incorporate a facial steam to help eliminate built up grime and toxins and to hydrate and decongest your skin.
Exfoliate your body with sugar scrubs as dryness becomes more prevalent. Every autumn I make a up a large batch of this hydrating sugar scrub to help keep my skin flake free, smooth and moisturised. Sugar is a natural source of glycolic acid and breaks down the dead skin cells on the body that cause the dryness and flakiness.
Warming Winter Sugar Body scrub
1/2 cup dark brown sugar
1/2 cup Olive or rice bran oil
1/4 cup virgin coconut oil
1 tbsp rose powder
1tsp cinnamon powder
You can add essential oils to the scrub but I prefer to keep it scent free as the brown sugar and coconut oil combined with the rose and cinnamon are fragrant enough
How COVID-19 has impacted your Skin
Face masks and face coverings have now become our new reality and can help to protect our health. Unfortunately, they also lead to a plethora of undesirable skincare problems such as blocked pores, breakouts, rashes and irritation. Pre-existing conditions such as acne, rosacea and eczema may also get worse.
Skincare issues experienced by NHS and healthcare workers wearing surgical-grade masks have been well documented throughout the pandemic. A cloth face covering is nowhere near as problematic but it can still have a detrimental effect on the skin if worn for prolonged periods of time.
Prolonged wearing of face masks will trap moisture, sweat, oil and dirt close to the skin which can lead to blocked pores, blackheads, blemishes, and acne. The issue of breakouts has become so common that the word 'maskne' has been added to the Urban Dictionary!
As we breathe and talk, moisture from our breath is trapped within the mask, creating a humid environment that can upset our skin's natural oil and pH balance and cause an overgrowth of bacteria.
Lots of individuals have experienced irritation from the mask rubbing on their skin. Friction from the mask will cause the skin to lose natural moisture and damage the protective layer, which can lead to dry, irritated skin and inflammation. To avoid this happening, choose a mask made from tightly woven cotton and avoid synthetic fabrics such as polyester, nylon and rayon which can make you sweat.
100% cotton or bamboo masks are more breathable and will feel softer on the skin. Wash your cloth masks regularly to remove oil, dirt and bacteria that could cause breakouts. It may help to use washing detergents for sensitive skin as the chemicals in some detergents can cause irritation. Add a couple of drops of tea tree or lavender essential oil to your rinse water and rinse the mask well to remove any excess detergent build-up.
Keeping your skin clean is one of the most important ways of preventing blocked pores and breakouts. Cleaning your skin morning and night is essential. Your evening cleanse is to remove the pollution, grime and bacteria of the day in addition to make-up. Use a oil based cleanser or micellar water to remove makeup and then follow with a gentle SLS, SLSE free foaming cleanser to leave the skin feeling refreshed. Don't be tempted to over-cleanse though as this will strip the skin of natural oil and cause it to produce more. A light cleanse in the morning will prepare the skin to absorb your products.
Always use an alcohol-free skin toner after cleansing to balance the pH of your skin. Your toner can be used as a facial spritz during the day to re-hydrate and refresh the skin.
Choose a moisturiser suitable for your skin type to boost the skin's barrier function and decrease friction between the skin and mask.
If breakouts are an issue, it might help to minimise the amount of makeup you wear under your mask and to keep it as light as possible.
"Remember you don't need to use a lot of products to get great results, you just need to get the right products for your skin types". Renee Rouleau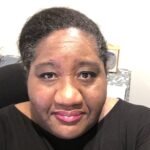 Selina is a holistic skincare aromatherapist passionate about bringing skin back to life using natural skincare products backed by science.
Since she discovered aromatherapy one rainy winter day, it has been an integral part of her life has helped her maintain wellbeing whilst working in the City and dealing with burnout, stress, overwhelm and depression. After 15+ years working in Financial services as a Relationship Manager and doing an MBA, Selina has pivoted towards working with individuals who want to transform their skin and reclaim their lost glow and zest for life as they have lost a part of themselves juggling the spinning plates of life. She believes that inevitably that journey shows up externally on our faces and wishes to give women the gift of how to confidently look after their skin by establishing a simple daily routines and choosing the right products designed to kickstart the journey to self-care and wellbeing.