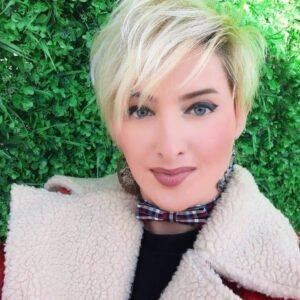 H. E Denisa Gokovi holds a Master of Arts in Music Theory and Composition from the University of Arts in Albania. Today she is an accomplished musician and has become the leading pianists in Albania. This is evident in the many national and international awards she has won.
She aids young artists in their professional development and training as upcoming musicians. Recently, H.E Denisa Gokovi had a dignified presentation at a conference and festival in Albania where she collaborated with a young dancer Ms. Geraldine Gryka who inspired many young people with her human and artistic talent.
Aside from her performances, H.E Denisa Gokovi engages in humanitarian work both nationally and internationally.
H.E Denisa Gokovi has been a member of several national and international associations, mainly to protect the rights of women and children. She continues to collaborate with one of the oldest and most recognized associations in Albania: the Association "For the Benefit of Albanian Women" in which they work as a team for women's rights, integrity and development. In this association, there is also a branch of music where women and abandoned children are given free music education in an effort to improve their psychological and economic wellbeing.
H.E Denisa Gokovi has also been invited to various conferences where she acts as the voice of the underprivileged in the Albanian society. She has been part of various national and international interviews cited by TV, magazines and newspapers. She plays many roles such as being an ambassador and advisor to various organisations. She has also received various awards such as the Global Humanitarian Award by the World Peace & Diplomacy Organization in 2019. She was appointed as Chairperson & Speaker for Albania in the Women's Economic Forum, India and also in the Global Ambassadors' Organization for Human Rights. She is member of the ECO LEAGUE Forums team & Cher Eco City – Singapore (2019-2021).
Denisa Gokovi is a Musician, Writer and Philosopher. In addressing the many opportunities that cultivate the space of cultural and social roles, I feel a growing responsibility to strengthen the objectives of each of us in vital. Being a pianist I have the opportunity to reflect important moments through musical creativity. Being a writer, the power of knowledge is the purpose of speech, all the more so by creating the essential coordination of fruitful ideas in the various spaces of the international audience. Like all my experience, it is related to many public relations sectors where one of the basic priorities can be to classify the status as Global Goodwill Ambassador.
On many social campaigns and special aspects for dealing with ideas such as Speaker and Artist I have been present at several events and conferences that convey clear objectives professional discussions on mainly social but also diplomatic problems.
Please tell us about your early life.
I was born in the city of Shkoder, Albania. It is known as the city with early culture and very traditional history. I studied the piano instrument at the music school in my hometown. I have been a part of many competitions and festivals for children as a stage performer. I have been awarded several different prizes which I remember with nostalgia. My childhood has been quite beautiful but also difficult because my family was attacked by major corruption scandals. In this way we went through great vicissitudes in socio-economic status.
I faced many difficult and extreme challenges at the human level and at approximately 17 years of age, I began to write philosophically and to examine fruitful ideas about humanism. My hometown is quite poor and this comes as a result of political misery.
Feeling the spiritual revolution within myself, I managed to create a standard with myself and a compulsive conscience to breathe as a leader of human principles to prevent injustice from penetrating others as happened to my family from a religious community.
This was the starting point of my childhood consciousness with high courage and confidence considering all my efforts. Diplomatic and institutional warfare is not easy but in terms of individuality by strengthening opportunities and displaying ideals, you can invite rivalry to establish your success. In this way I chose to "punish" my childhood but resulting in a capable supporter and creator in the fair and promotional consultations of my city and beyond. In this status of obligation and individual ability, everything started, even though I did not have any kind of support from Albania, on the contrary, achieving it gained jealousy.
How do you feel the COVID-19 affected the Artists?
I think that the time of Covid 19 has influenced immensely and strictly in relation to every social issue and network business, but especially the field of art has been extremely stressed. Given the challenges of crafting and selecting online activities, the difficulty has doubled and artists have tried to be active with their fans after every challenge and technological revolution. Personally I have felt difficulties but I have tried to cultivate and educate our young people through music education in the online learning process as well.
Biggest Challenges that you have faced in your life?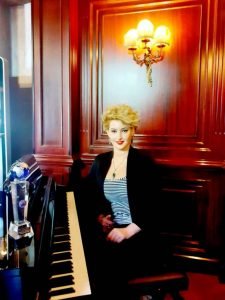 The great challenges of my life are based on the context of the deep poverty caused years ago by corruption networks. I have gone through a difficult history of my family, as they destroyed all our property and assets with state intervention. Despite many individual initiatives, I have tried to overcome any difficulties and have shown that in a country that deserves a revolution, I must be even more stable and strong in certain enterprises. By equating every cause and effect with the consequences that affect the lives of each of us, it is understood that non-gender and social equality has played a key role in discrimination and managerial incompetence that has been done to me in various forms. As in the artistic aspect, it happens that creativity is pushed, in the sector with public relations, the objective and the work are jealous with the harshness and social indifference. Facing such challenges that have created difficulties in my life, I grew to create intellectual independence and professional goals without any false pretensions and recruited in high political interests. I competed with myself and found spaces strong enough to resist any experience that creates indifference and gains confidence in every life finding
What other work are you involved in?
I am already part of some non-governmental organizations and non-profit industry. It was certainly an extraordinary challenge, starting with volunteering, spiritual connection, psychological creativity and faith. These are important elements that make up my visionary work. I am involved in several associations, organizations, companies that cover such spaces as their Ambassadors for Culture and Art, peace and prosperity. We can mention some of them in which I have fruitful collaborations in the public sector. As Cad bridge Corporate – USA / World Peace Committee, International Organization for 202 Countries / Indonesia. FAAVM is an organization that supports minorities with their offices in Canada. Another important organization in NYC which cultivates and enables collaborations in important investment platforms where I have recently been certified as a member. Another important organization to promote the talents of every field in the world "Noble World Records" / India. There are enough innovative organizations and societies that support the inspiring power and that I am already part of through many evaluations, where I feel very happy and responsible globally.
Tell us about your Ambassador roles
Being an Ambassador is a great social responsibility starting with the way of thinking, protecting and the efficiency of certain changes in the improvement of people's lives, the civilization of new ideas and the possible changes in different representations.
I'm the Global Goodwill Ambassador at the Canadian non-profit, FAAVM. Also the Ambassador of Peace to Cad bridge Corporation, USA. Ambassador of Culture and Art for the "International World Peace Committee". As an accomplished musician and composer, I often perform live concerts and donate time performing for benefits.
I am Goodwill Ambassador to the eminent organization where promotes human values and commitments "Noble World Records" India. Goodwill Ambassador & Speaker of the non-profit USA organization (GGA) on a global audience well known on the professional social network LinkedIn. I am Dame Grand Officer of the Holy Order of Protection & Education for women children and families (H.O.P.E) I am appointed as National Brand Ambassador of Albania from "International Non-Olympic University" & Adviser of INOU Peace – Mission. Experienced Brand Representative with a demonstrated history of working in the non-profit organization management industry.
What drives you?
Usually the passion to build concepts to manage different sectors, professional orientation and commitment.