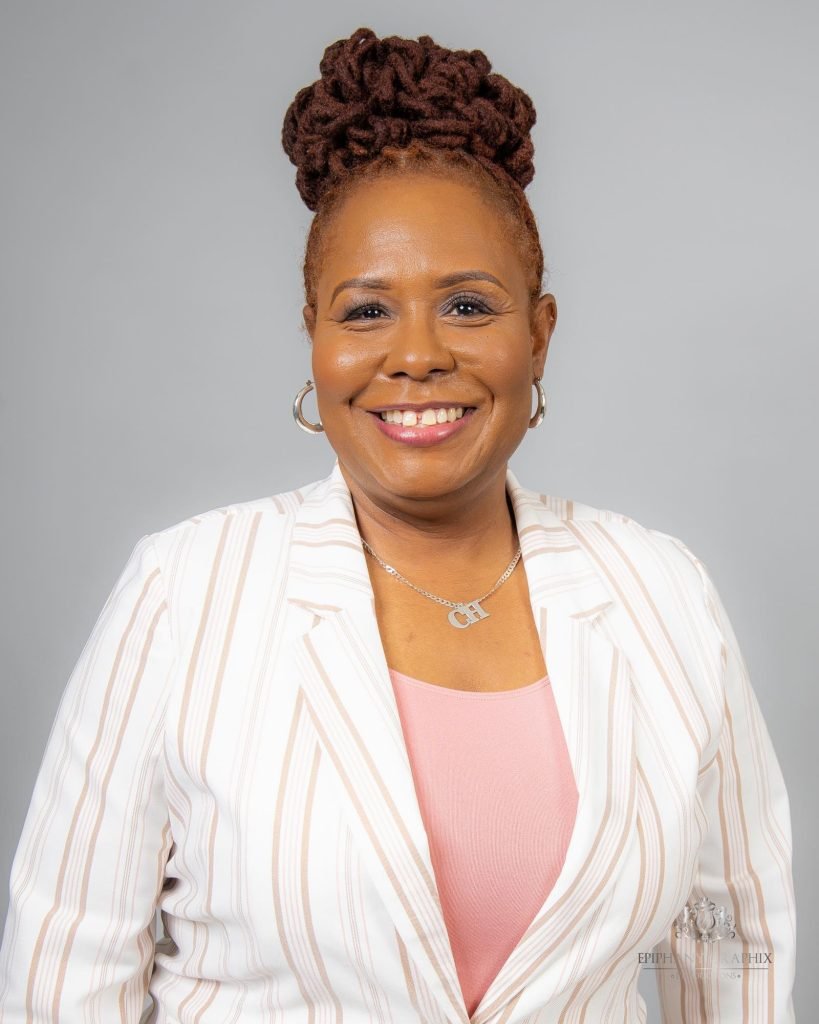 Charniece Martina Harris is an author, motivational speaker, and the founder of a Non-Profit organization-House of HUGS for Women and Children, where she serves as Executive Director. She is the mother of Ra'Mel Harris (deceased) and is the oldest of five siblings. Charniece was born in Kansas City, KS, on September 8, 1968. She relocated to Kinston, NC, and was raised by her maternal grandparents. Charniece currently works in management with the 6th largest bank in the United States.
She is a member of BOLD (Black Organizers, Leaders, and Doers) and the Diversity, Equity, and Inclusion Groups, both offered by her employer.  A successful entrepreneur, she is the owner and operator of HUGS-HIS Undeniable Grace Services Committed to helping those afflicted with drug addiction, Charniece sponsors several individuals in the 12-Step program that helped save her life. The evidence and recipient of God's grace, she freely shares her experience, strength, and hope with others recovering. A faithful Christian, Charniece is an active member of Faith Church in Winterville, NC, serving as a member of the Outreach Committee. Passionate about giving back to the community and helping others, through her nonprofit organization, she volunteers and prepares lunch bags for people experiencing homelessness each month. In addition, she has spearheaded multiple successful charity drives including FEEDING1000 and 500 Bundles of HUGS, to raise funds for House of HUGS for Women and Children while providing food and gift bags to the less fortunate in her current hometown of Greenville, NC, and surrounding counties. In her spare time, Charniece enjoys sleeping, relaxing with a good book or movie, traveling, volunteering, and spending time with family. She resides in Greenville, NC, with her loving dog, Hugs. In January 2020, Harris became a published author, penning Shine: An Anthology of Healing, along with 18 other amazing women. She was also privileged to be a part of Shine: An Anthology of Healing, the documentary featured on YouTube (The Upgraders channel)  In October 2020, Harris founded House of HUGS for Women and Children, a nonprofit organization that seeks to serve and support women recovering from addiction and homelessness, helping them achieve restoration of health, home, and relationships. 
Early Life
" I felt love was absent or conditional at best. My classmates teased me for multiple reasons- my clothes, glasses, nappy hair, and lack of parent's presence. I felt I didn't belong".
I was born in Kansas City, KS, where my father's side of the family resided. My mother ran away from North Carolina after becoming pregnant with me in her senior year of high school, primarily to keep me alive. She was valedictorian of her class but did not graduate. I always felt guilty and grateful, mixed emotions about being born. My maternal grandmother came to get me when I was still an infant. She raised me in Kinston, NC, with my uncle and two aunts. The youngest of my aunts was four years older than me. I felt she resented me, evidenced by her actions toward me at times. I remember my mom mostly being present during the holidays. My dad was absent, period. Eventually, the only ones left In the home were me, my grandmother, and my grandfather, who left the house early and returned late at night every day except Sunday. My grandmother raised me as best she could. I was a handful. Feelings of inadequacy, abandonment, and inferiority due to my situation caused low self-esteem to form.  I became bitter and rebellious.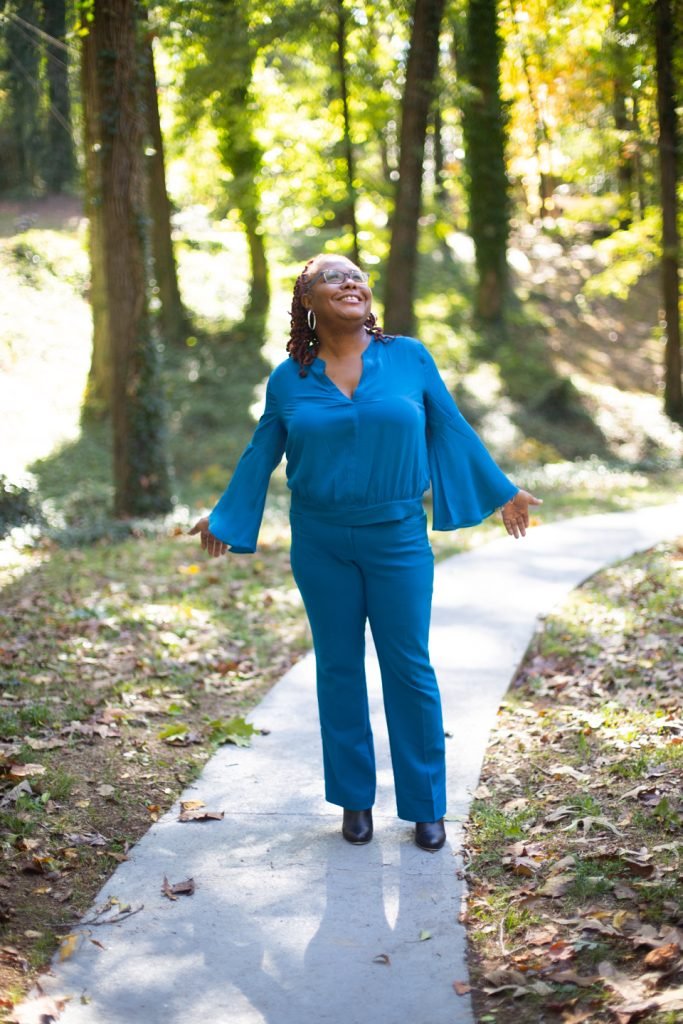 I felt love was absent or conditional at best. My classmates teased me for multiple reasons- my clothes, glasses, nappy hair, and lack of parent's presence. I felt I didn't belong. I did ANYTHING to fit in, to be accepted, to be "loved," and to belong. I wore many masks. My feelings of low self-worth led me down paths of mental, physical, and sexual abuse. I began drinking and taking drugs initially for fun, then to numb the pain, and then against my will-taking me to bitter ends.
My biggest struggle in life  
It was a lack of self-acceptance, low self-worth, and low self-esteem. I have had a very public struggle  (drug addiction). However, once I was gifted with recovery by the Grace of God and put the drugs down, I found the root cause of why I did what I did. It all stemmed from something much more "deadly," which moved in almost complete silence. I say "almost" because if I had listened more acutely with my eyes and ears, I would have heard these assassinators loud and clear. The evidence was there long before I picked up a drug. The pretending to be someone-anyone other than me, lies, manipulation, and deception at an early age. The down-talking of myself disguised as jokes before anyone else had a chance to poke fun at me. The allowance of fondling of my body so I could hang out with you. The sexual acts for attention or even money. The inability to accept a compliment about my looks or intelligence. I couldn't see what they saw—like what you like, hating what you hate just to be desired—the attention-seeking activities, good or bad, but mostly bad. Who can be the loudest in class, disruptive, or disrespectful. The bullied turned into a bully. I never stopped to think about who I hurt. Hurt people hurt people as they say. At the time, I did not realize how the abuse I endured, the missing dad, the part-time mom, the being taunted and teased, and so on, caused me to develop self-hatred, self-loathing, never understanding and constantly questioning what was so wrong with me. This would be the premise of most of my decisions, including my social activities, friendships, relationships, geographical changes, etc. I was lost long before drugs. Addiction was the manifestation of my underlying issues, and it was a louder, more noticeable beast with actions unspeakable and consequences devastating. Not only to me but all those connected to me. The degradation, the guilt, the shame, the spiritual death. It would be 30 years of struggling and fighting before I was introduced to a 12 Step program that assisted me in staying clean and then started me on the road to recovery. It gave me the tools to look within to discover the "silent" killers. The journey has not been easy, and it continues. I have learned to accept all of myself. I have learned I am neither all good nor all bad. I have learned how to cope with my feelings much more constructively. I don't have to do it alone nor do I want to. I do not use drugs, people, places, or things anymore. I have days when I still compare myself to others, and I feel less than inadequate. However, I do not wallow in that feeling. Neither do I find it necessary to use behind my feelings. Instead, I will talk about it. I expose the very thing, if kept inside, that has the potential to take me back to a dark place. I get honest. I lean a lot on God. I remind myself of who I am in Him. I am loved, and I love myself more each day.
The biggest misconceptions we have about drug addicts  
Addicts want to use, and they can stop if they really "tried," and they will never change. Most addicts want to stop using long before they are able, if fortunate even to do so., they "try" all types of methods to quit but are often not successful until they admit complete defeat-SURRENDER, and they DO RECOVER with the proper tools and support.  
I am still working through
the effects were in my life
How best can we support loved ones who have addictions and those who are recovering? 
Pray. 
Give Grace. 
Do not enable them. 
Educate yourself and find a support group.
How did you overcome the trauma and effects of abuse in your life? 
I am still working through the trauma, realizing, as it is revealed, how far-reaching the effects were/are in my life. I have gotten better over time by talking about the hurt/pain, identifying and admitting the exact nature and causes of the abuse, accepting my role, if any, and forgiving those who violated me as well as myself.  
What wisdom can you share with those who are still in abusive relationships and feel they have no way out? 
For those suffering in silence. There is hope, and there is a way out. It requires action. You must speak out, tell somebody, and seek help! It takes courage to fuel this action. Trust God and flee.
What are your proudest moments? 
Becoming a mom was evidence that God loved me, proving it by giving me one of His most precious gifts. Getting clean from drugs because I never thought I could. I was convinced I would die from the use of drugs or the lifestyle, graduating from college at 44 because it was the one positive thing of value I started in active addiction and completed. The disease of addiction did not win. Gaining the trust of family/friends, including church, work, and family, by doing the work on self, being transparent, and having integrity. Starting a non-profit organization to help women and children-doing it scared by Faith.
How do you spend your free time? 
When I quiet my mind and take advantage of "free" time, I like to snuggle up with my fur baby while watching a good movie or series, travel, spend time with family, and sleep.
What's next for Charniece? 
Living in God's perfect will and walking out my purpose of helping the less fortunate. The vision is to open multiple homes and support centers for women (and children) recovering from addiction and homelessness in North Carolina, authoring a book to inspire others and continuing to carry the message of hope to those seeking recovery from drug/alcohol addiction.
How would you like to be remembered? 
I want to be remembered as a passionate, loving, authentic woman of God who, after overcoming the enemy's wiles, not only looked back but reached back to help others succeed in their struggles.