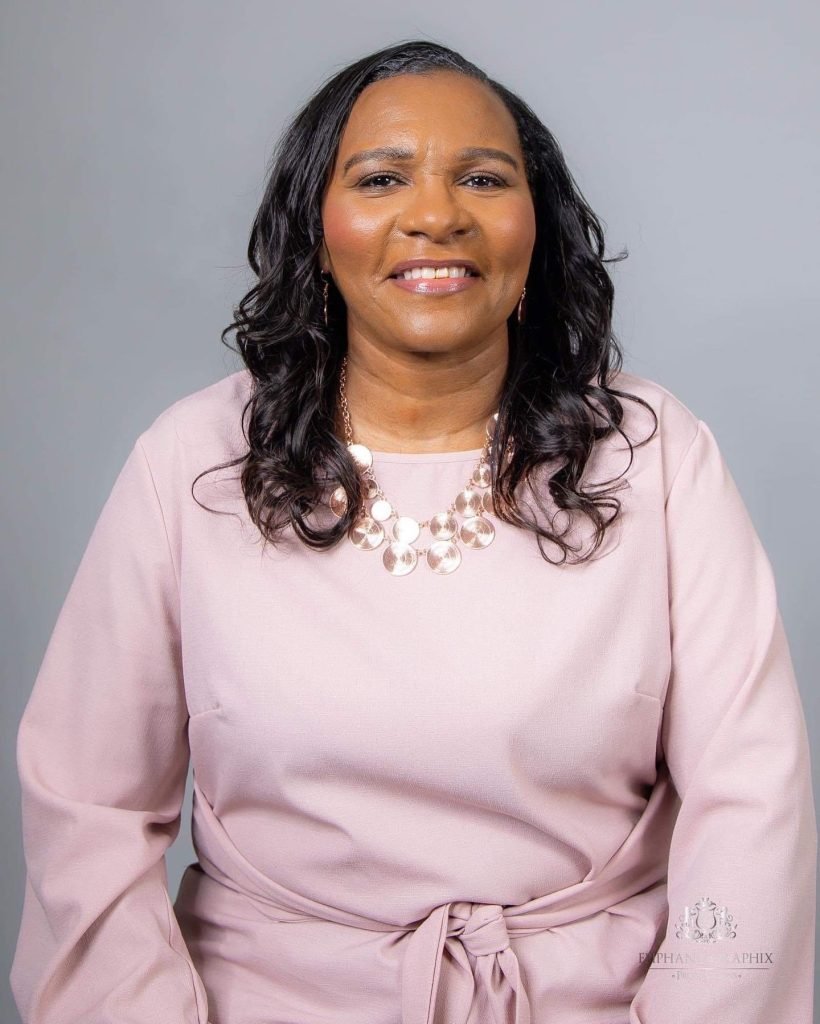 Nettie Williams Jones is an Evangelist, a mother, a wife, and an Author.  Her most precious role is that as an Evangelist, she loves helping others see their way out of dark places. She loves encouraging and praying for others. Nettie loves being a mother, a grandmother, and a wife.  The roles she plays as each one causes her drive to increase daily to set the standard high.  She leads by example for her children and husband; what a  Proverbs 30 woman is—married less than a year to the Man of her dreams.  They indeed are an example of the movie Love and Basketball.
She is married to Cameron Jones, and they have six children and nine grandchildren. They are a part of her reason for positioning herself to leave a legacy she's birthed. She wants her children to use her mistakes and life examples to help shape who God is calling them to be. Nettie went to Orrum High School and was on the girl's basketball team; she was the lead scorer three years in a row, and her team won the championship two years consecutively, undefeated.  She is the only player in Robeson County never to have been held under double figures.  She had a 4-year scholarship to North Carolina Central University and enlisted in the US Army from 1987 to 1995. She obtained her Associate Degree in Information System Technology and is working on her Bachelor's in Theology. She works at Onstar and has been an Independent Business Owner with Total Life Changes for eight years. She volunteers at Rest Homes and makes herself available to those less fortunate. She believes God created us all to make a difference on this earth. One of the quotes she lives by comes from Les Brown.  "Accept responsibility for your life. Know that you will get yourself where you want to go and no one else."  Nettie loves reading during her free time and holds her dream of becoming a basketball coach to this day. As an Author of Shine, working with Dr. Tonya Scott guided her to look within and find healing and growth, which opened up a beautiful chapter in her life. 
I was born in Long Island, New York. Four years later, I moved to NC, where my Mom and Dad were born and raised.  My childhood consisted of so many things happening as a child that I was afraid to talk about.  The hush rule cost me the majority of my adulthood.  But the values and morals my Mom instilled kept me from being on antidepressants and committed to an asylum.  She raised me in the fear and admonition of the Lord, ensuring I was in church every Sunday,  even when she couldn't go.
What was your experience with school?

 
High School was the best experience for me when it came to school.  This is where I learned what it meant to be a community and family.  College, however, was different. I grew up in a small community, and there weren't many people dealing with gender identity or drugs and alcohol at my age.  College shed light on so many things that I was blind to, which brought a fear of becoming someone I wasn't.  So I left college early, afraid of it changing me for the worse.  I didn't know what was in me at that time.  I just knew I was seeing many new things that brought fear to me.
What are your proudest moments? 
My Proudest moment was when I was ordained an Evangelist.  This was the point where I knew in my heart I had accepted the call on my life.  Encouraging, praying, and helping others is my passion.  I love to see someone who feels like or has felt like there is no hope, and God uses me to help them out of that dark place.
What has been your most defining moment?
In 1985 I was getting ready to face playing on a basketball team that was undefeated for two years consecutively.  Four of the starting 5 were young ladies I grew up with and was close to, and I wasn't used to losing.  Every team that we defeated was waiting for revenge.  I had decided not to play my last year until my youth coach stopped me and said, "This year will be about Nettie, not about the Lady Raiders." I didn't understand that until the year was over. It's easy to perform and do well with a well-rounded set of people but to hold your own when it's just you tells what's in you.
The biggest challenge I had
about what I was doing
The biggest challenge I had was openly writing about being violated as a little girl and deciding to end a life that I had no clue about what I was doing.  Also, admitting that my dad had a hand in my difficulties with loving myself and struggling to know what true love coming from a man is. I overcame this through prayer, counseling, and getting as close to God as possible. I forgave myself first and then everybody involved.  
What values did you learn playing basketball 
The values I learned from playing basketball were that the one with the highest score isn't the only winner.  It taught me how to compete constructively.  It helps to understand how important it is to be a team player.
What do you love most about your life currently?
I love that I can live my life without regrets.  Understanding that everything that I have gone through has made me who I am today.  I love that I don't owe anyone else an apology for who God created me to be and who I have become.  Why? Because my failures brought about opportunities to grow.  My flaws were there and are here to help me see where I can be better and not bitter.
What advice would you give a woman reading this who is experiencing brokenness?
Acknowledge the place you are, and accept it, but only to see yourself out of it before you come out.  Never think you are in this alone; there is always someone who is, has, or will go through what you are going through.  Most of all, never be afraid to reach out for help.  And Never Ever be scared to fail.
What's next for Nettie?
I am starting a non-Profit Organization for Young ladies battling low self-esteem, divorce, physical Violence, teenage pregnancy, and substance abuse.  I have named it after my Mom, who has left a legacy of love.  We often look at legacy as wealth, but I believe a legacy is something that we carry on and pass down to others.  It will be named after my Mom—Esthers' Humble Abode.  Whatever platform God gives me to share this vision, I will take advantage of it, though it starts in the home.