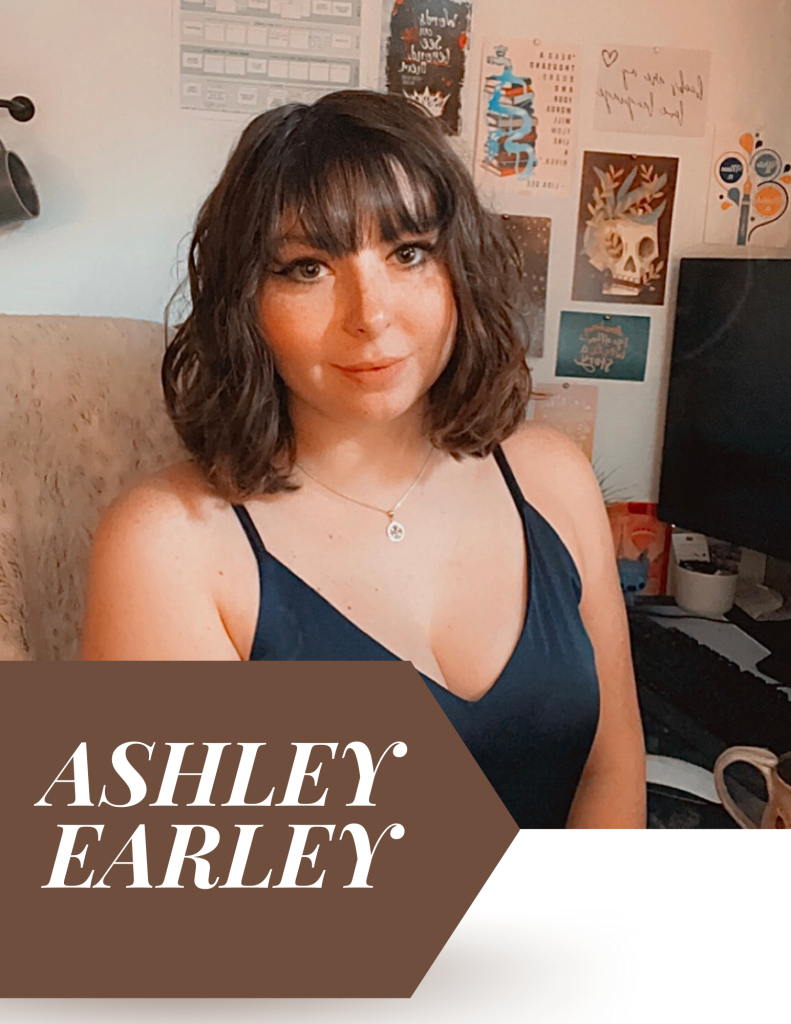 Ashley Earley grew up in Georgia, where she spent most of her time running wild in the woods of her backyard, building forts to create her own fantasy worlds, obsessing over books, and experimenting with her writing. Today, she lives in Colorado with her dog and still spends her time devouring any book she can get her hands on, writing, and editing for her clients at Earley Editing, LLC. In May of 2021, she graduated with distinction from the University of Colorado Boulder, receiving a B.A. in English with an emphasis in Creative Writing. She also enjoys snowboarding, exploring, annoying her dog, constantly eating chocolate, and sharing her writing adventures on Instagram. Her Thriller/Suspense short story, Chasing Hair of Gold, won first place in the 2016 Writer's Digest Popular Fiction Awards. As a writer, she leans into fantasy or horror due to her love of all things creepy. As an editor, she loves a little bit of everything when it comes to fiction. Give her that steamy, forbidden romance, give her vampires, or even that young lovey-dovey stuff with all the twists and turns! 
Pushing yourself beyond your limits and comparing yourself to others will only result in burnout.
Describe the first time you discovered your love for writing
I started writing when I was 14 years old. The first book I ever finished writing was a horrid X-Men knockoff. It took me seven months to write, and by the time I'd finished the first draft, I felt such an intense sensation of accomplishment that I knew I wanted to do it forever. Since then, I've never stopped. After graduating college, I completely immersed myself in the industry, starting my own book editing business under Earley Editing, LLC, and writing as much as I can on the side.
What is your favorite quote from a book?
"Remember that you are a wolf, and you cannot be caged"—A Court of Wings & Ruin by Sarah J. Maas. The A Court of Thorns and Roses series helped me get through a very rough time in my life and will always have a special place in my heart. 
How do you process writer's block?
I have a few coping mechanisms for processing through writer's block. The first go-to is to make myself another cup of coffee and consume a bag of M&M's. Sweets and caffeine are necessary for my "process". If this does not work, I usually find an excuse to take my fur baby Nova on a walk to clear my head. However, if all else fails, I will deep dive into YouTube into true crime podcasts for inspiration. There is no explanation for my madness.
What has been your proudest moment and why?
My proudest moment has to be starting my own business right out of college. I graduated right at the end of the pandemic and getting hired for a job seemed impossible. I wanted to edit books and while working for a publishing house would have been a dream, moving to New York was not a possibility. Somehow, I ended up coming across freelance editing and that was how Earley Editing, LLC was born. I've learned a lot since starting my business and have helped many evolve from writer to published author.
What was the biggest transformation you had from writing?
My biggest transformation has a bit less to do with writing and more to do with networking around writing. I think it's safe to say that a good portion of the writing community considers themselves introverted. I am one of them. I've learned how to put myself out there for my business, Earley Editing, LLC, and market my services to writers. However, with marketing my book, I've realized it's a lot about marketing myself to readers and connecting with readers on an entirely different level. I've learned to put myself out there more and find ways to connect with readers via the BookTok and Bookstagram communities. 
What greatest challenge you have faced and how you overcame it
This one also relates to my proudest moment, but my greatest challenge was graduating during the pandemic and starting my company right out of college. I believe the proudest moments come from great challenges and hard times. When I first started my company, I was pitching my services left and right to get writers to trust me enough with their work even though I was just starting as a baby editor. At the same time, I got a second job to help pay the bills, was in a bad living situation, and ended up being scammed out of a job by another editor because I didn't know any better. My greatest challenge was overcoming those obstacles and coming out of each of them with a successful editing business. I still work with many of those writers who first trusted me with their books and am forever grateful for them and their stories. Thanks to my perseverance, I get to start my writing journey now. 
Word of advice to aspiring writers
Writers do not feel pressured to follow the writing schedule and "you must write this many words a day to become a bestselling author" pressures from the greats. Write in a way that feels natural to you. If writing 200 words a day is your vibe, you're still 200 words closer to finishing your book. Pushing yourself beyond your limits and comparing yourself to others will only result in burnout. Trust me, I'm speaking from experience. 
What's next for you?
Next, I hope to continue to grow my editing business, but also dedicate more time to writing. I want to find some kind of balance between work and being creative. It's something I've been missing from my life for a while, and it's a goal I'm dedicated to. Working on my upcoming novel, Heart of Skulls, has rekindled this drive and I am motivated more than ever to continue writing in my day-to-day life.