As the UK economy experiences unprecedented lows is now the time for women to enforce themselves as key contributors to bringing the economy back to life?
In the 2019 Alison Rose Review of Female Entrepreneurship report it was concluded that female entrepreneurs could contribute £250 billon of new value to the UK economy if they are able to start and scale their business at the same rate as men. At first glance this information seemed revolutionary yet upon further consideration the report highlighted much of the disparity women experience in starting new businesses from support to sponsorship and funding. It had also become apparent that the number of female entrepreneurs in the UK starkly differed in comparison to Canada with 15% of women running their own business US 11%, Australia and Netherlands over 9% and the UK only 6%. With many of the revelations coming out of this report it had become clear that there was still a long journey ahead for the UK in encouraging and supporting female entrepreneurship. With the dramatic changes to life as a result of the pandemic could this now be a pivotal time for women to focus on creating and scaling their businesses as a means of developing a more balanced economy that includes a plethora of female economic contributors?
The pandemic has afforded a time of reflection which has caused many to reimagine how they want their lives to be. This has resulted in many taking a plunge to start their own business during lockdown. Usually in a period of recession or depression in this case most people just think about staying afloat and go into survival mode but the kind of economic turmoil we're experiencing is like none other before. It's not a matter of poor investments gone wrong, but this pandemic has opened our eyes to the harrowing inequalities experienced in society and a need for deep cleansing. Women are amongst those hit the hardest in terms of job losses with 40% of employed women working in the most affected sectors or founding themselves over stretched as a result of carrying out their day jobs and for mum's having to home school at the same time leading many to quit their jobs since lockdown. The insecurity women have experienced in the last year has heightened women's entrepreneurial spirit leading many to use this time to create their own businesses as they look ahead to forging a new life path. It's interesting that when we hear people's stories as to why they started their business there seems to be a pattern with women where their experiences are the driving force behind their 'why'. I think it's a part of women's superpowers of creativity and innovation to see business opportunities in their personal struggles. Women possess valuable intellectual property that will not only be key in redefining women's position in business but fundamental in building a more resilient economy.
The qualities people require from leadership is changing. It's not about being charismatic and charming but it is about being empathetic, and this is something women understand. With all the discrimination women experience in the workplace it positions us to be able to relate to others. Previous ideologies about what makes a good leader are eroding as the needs of the workforce are brought to the forefront with a greater emphasis on mental health and wellbeing. Women are known to have a higher level of emotional intelligence, yet the narrative of women depicted in the workplace is that we're too 'emotional' and therefore our decision-making ability is questioned. The very things that have been supressed in women in the workplace are the very areas growing the biggest traction. Female leadership qualities such as a greater ability to empathise, humility and having a more holistic view are not highly regarded in a patriarchal society but highly effective and important in modern business. I believe women are greatly positioned to shift the direction of business entirely to being more inclusive and diverse. Business engagement is shifting with people placing a greater emphasis on morals, ethics and business practices making it ripe for women in this era to create businesses that bring the new ways of working and develop a new stream of economic value.
When thinking about what women can offer in rebuilding the economy we also need to look closely into the intersectionality of women. Women from different backgrounds and ethnicity groups experience life and the barriers to success differently. The Black Lives Matter movement has unearthed deep insights into the hurdles black people experience in every aspect of society. In the last year the conversations around diversity and inclusion in the workplace have skyrocketed. Reports show that black employees hold only 1.5% of senior roles in companies. To add to this there are no black executives in the top three roles within Britain's 100 largest companies and black and minority women are around twice as likely as white workers to be employed in insecure jobs. Waiting for change to come in institutions that are rigid is challenging, and many black women understand that which is why more are stepping out and creating their own businesses. Seeing businesses created by black women over the last few years in tech, beauty & fashion, venture capital firms and beyond goes to show the array of talent within the black community that gets bypassed. People in society are showing an unwillingness to spend their money on products and services that do not resonate with them anymore, providing an amazing opportunity for black women and those from other ethnic backgrounds to tap into a diverse market space that can longer be filled with commercialised products. Things like skincare for instance consumers want to purchase it from companies who understand their skin type or with make-up, they want to buy it from companies that create products that match their skin tone and with clothes they want to buy it from places that appreciate their body type.
Even when it comes to tech companies and consultancies more people want to work with those from diverse backgrounds that can bring a fresh perspective. There is space right now in the market to reach consumers from diverse backgrounds and I believe that black women and those from other ethnic backgrounds are positioned to take full advantage.
Reflecting on the hardships experienced over the last year it is proving the need to recalibrate and regain balance in society. Women hold power in key areas of change required to help get the economy moving in the right direction. I don't believe there will be such a thing as 'business as usual' again because going back to the same old practices is not healthy for society anymore. Those practices advocated misogyny and the alienation of women in prominent positions. We need balance and that can only begin to take shape as women's business abilities are recognised and respected. The world is constantly evolving and so is consumer behaviour. Women will play a vital role in tapping into new revenue streams that the economy can stand to benefit from greatly.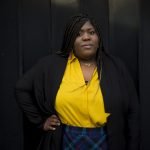 Salome is a business consultant working with businesses to strengthen their client relations, workforce management and their product/service strategy positioning within the market.