Divergent Thinker. Fear Strategist. Public Speaker. and a Lady with a Positive Mental Attitude.
Adaobi is the Founder and Chairman Board of Trustees of a Non-Governmental Organization, The Empowered Sapiens Mulier Initiative (ESMI) – an NGO that seeks to provide solutions to socio-cultural women(girl) problems through community projects while leveraging innovative advocacy strategies. She is committed to helping them reprogram their minds and not letting fear win.
She is passionate about seeing women establish themselves by reinventing themselves where necessary and becoming the best version of themselves.
She's a licensed Nigerian Attorney, a wife and mother, lover of God, Author, and an emerging Global Leader.
I was fortunate enough to have a childhood where learning was prioritized and building a sense of independence and self-worth was encouraged. So my early life experiences as far as self-awareness was concerned was a mixture of strength (being taught that I can be anything I want irrespective of my gender) and that of limitations (because society had a way of placing limitations on the girl-child). I heard words like a woman doesn't need to be very "ambitious" just get the basic education at most, finish university, get married and take care of the kids. My parents were not ready to let us embrace that ideology so it was easier for me to navigate the terrene and stay very focused, purposeful and yet "Ambitious". On how this has helped me discover The Woman Within, hmm… it is rather very surprising to make the connection because The Woman Within from my own standpoint was born when I was at a crossroad! It took some very unpleasant events unfolding in my life before I was able to tap into the power of who I am within.
What has been your biggest challenge and how did this influence your perception of yourself.
Life throws curve balls at us and it's either we re-strategize and move forward or we stay down, playing the victim and throwing a pity party! One of my biggest challenges would be making the decision to relocate to another country, living my life behind and all that I had already started building. In the new country it was very challenging navigating life generally. It was particularly depressing knowing I had a Master's degree but yet the opportunities in terms of job were only minimum wage roles. Did this influence my perception? Not necessarily! I knew The Woman Within was Stronger and it was only a matter of time before I settled in and land the best jobs. But I must admit it was not one of the most exciting time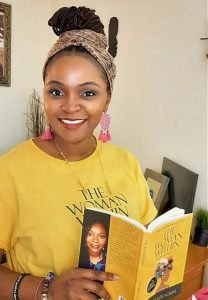 "All women will one day realize they are so powerful, much more powerful than the society has made them believe.
When did you come to this realisation or awareness?
I came to the realization of this when I started observing firsthand how some women choose to shrink themselves so they will not be "labeled negatively". I witnessed on many occasions where as women we were supposed to be "okay" with not being heard and if we must speak we speak quietly so we don't come off as bossy or very opinionated. I wanted to find a way to break the culture that a woman should only be seen and not heard! I wanted to let women know that it is their right to not only be seen and heard but also know they are powerful! As a Christian I loved reading about Deborah who was not only a Mother and Wife but was a ruler/judge/warrior/priest etc. she did all these exploits and did not have to shrink herself even when the times were different and enshrined in patriarchy. I took time to study Proverbs 31 and saw how much influence a woman welds and how she is clothed with strength and dignity because she is not only enterprising, she is a nation builder.
How did Sapiens Mulier Initiative come about?
Sapiens Mulier from a loose translation will mean "Wise Woman". I got the vision to float the nonprofit after I listened to a preaching on "Wisdom". Passion welled up on the inside of me to get women together and teach them what we could achieve as women when we start believing in the endless possibilities life brings. But it was also crucial to create awareness on the many socio-cultural problems women and the girl child face. Of course with time we registered the vision as an NGO and had our organization by laws and streamlined our activities to suit some of the UN Sustainable Development Goals.
Tell us about a time you reinvented yourself and why you felt the need to?
This will be after I failed my New York Bar Exam. I was already crippled by fear and so to get hold of my life again and not let the mere outcome of a test define me for the rest of my life I had to deal with the root of my fear. This was the beginning of my reinvention because this singular experience with fear and my decision to confront it took me on a journey of self-education. I started reading so much about the mind and the subconscious mind. I took NLP certification courses, I did Cognitive Behavioral Therapy courses too. I just became obsessed with learning everything about the brain and neuroscience which led me to become a mindset coach (Fearstratgist) helping people "say NO to fear". While I was on this road I met a lot of amazing women and my circle also was greatly influenced by my decision to reinvent myself!
Please share the most profound moments in writing your book and how you identified the women to co-author with you.
I think all the moments were very profound. I say this because all the stories were true life experiences so I really had a great time telling my story. Getting the women who co-authored the book wasn't so daunting. However, I did meet some rejections which I totally understand because it's not everyone that is comfortable sharing their personal stories for the entire world to read! Everyone whose story was shared in the book had a unique disposition because the hallmark was to showcase all the unpleasant and sometimes painful ordeal that a woman has to go through and yet be encouraged to take it one day at a time knowing that we are built to be stronger even from within. In identifying the co-authors I looked out for women who despite the difficult curve balls life has thrown at them decided to look within and continue pushing till The Woman Within was unleashed.
How has releasing the book impacted you?
Sometimes words fail me! The reviews and comments leave me speechless. I have again been reminded of the enormous power our story holds and the impact it can have on others when we choose to tell our story. I have received great feedback and the most beautiful thing is that readers say it is very relatable because they tend to see themselves in at least one woman's story out of the 13 women who co-authored the book.
What's next for Adaobi?
Continue impacting women and the girl child through ESMI. Finishing my MBA (2021). Reading more on American politics (hopefully become a congress woman someday).